| | |
| --- | --- |
| | StarBoard Interactive Whiteboard Front Projection Type |

Can be used" easily by combination with Projector.

Whiteboard type StarBoard on which pictures and letters can be projected from thefront by an Projector. Can be used cordless without troublesome wiring work by Bluetooth function.
Reasonable type which has pursued cost performance as well as ease for use.

What is StarBoard ?
This is the Whiteboard type Electronic Board on which pictvires or letters are projected from the front using a Projector. Utilizing the projector, you can operate personal computer in projection mode for each wide picture, 82 inch, 77 inch or 63 inch.Furthermore, if you use wireless connection, you can use them without troublesome wiring work. We are pleased to supply you with Electronic Board at low cost for supporting lessons or conferences.

Projection Mode
You can easily register the items which are frequently used to the tool bars.Tool bars can be changed to vertical or horizontal placing and also can be used with plural steps. You can arrange tool bars to you best operation.


Comfortable Reaction /Operation
As the reaction speed of cursor on personal computer is very high. You can use it comfortably without sense of incompatibility. Furthermore, you can use it with placing functions which are frequently used and operation of key board on the function area at the left side of StarBoard.


Exclusive Pen with side button 18 used.
Side button is attached to the exclusive pen and enables you to allot various functions on the board. When the side button is not pushed, input by pen is available. When the side button is pushed, eraser etc. are available. Thus you can operate it quickly by changing functions at hand.


Materials are used on the board surface to prevent reflection.
By using special materials on the board surface, the hot spot(reflection of light source) is prevented. Thus burden of your eyes are reduced and keeps you comfortable even if you use it for a long time. As papers can be attached on the board surface using magnets, you can project pictures or letters on them by projector and you can also write digital information on them.


Wireless Connection
StarBoard can be connected wireless to personal computer. You can use it at platforms or lecture tables without troublesome connection cables.You can move StarBoard without paying attention to wiring.*Please note that exclusive model for cable relaying cannot be connected wireless.
Return to above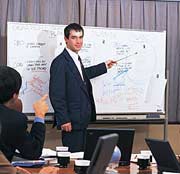 Presentation
StarBoard is the most suitable for smart and distinct presentation.By using electronic pen, you can quickly mark the point to be emphasized or additionally write letters right away.Speaking or documents only may be insufficient. By using interactive StarBoard, you will be sure to get satisfactory result in impact or appealing power.


Conference
As the data in personal computer can be used as they are, you can decrease documents for distribution to each members. Additional writing on the board can be preserved or printed out as they are. Chairman of the conference does not need to stay riveted to his personal computer. He can proceed the conference smoothly by operating StarBoard directly himself.


Training /Seminar
Of course. existing VTR or DVD can be utilized. In order to make explanation which is easy to understand, not only playing back existing animation such as PR or empoyee's education Video but also additional writing on the board picture are available. StarBoard has both large sized multi-media monitor and ease of whiteboard. Thus StarBoard increases visual effect more than ever.
Return to above
Practical Use at Education Scene
Practical Use at Education Scene
Digital Board which has various functions is capable of realizing lectures combined with various digital contents by additional writing or erasing at any time.Operating together with personal computer, it produces effective expression which is easy to understand and students can concentrate their eyes and concerns to Digital Board


Lesson/Seminar
StarBoard can make the best use of merit of traditional blackboard as well as convenience of personal computer at primary or junior high schools and various kinds of seminars. By using electronic pen, you can instantly write letters direct on the board, preserve the contents or print out. If you use Star Board in the educational class room for personal computer students can easily understand the contents by explaining as operating on the large size board pictures.


Presentation
StarBoard plays an active part in gatherings for presentation of free researches or pieces of work. As operation of personal computer can be made direct on the board, students can express their idea as they think themselves. For the generation who are able to operate personal computers without a sense of incompatibility, StarBoard is the just fitting tool for growing independency and creativity of each student.


Research/ Group Study
StarBoard can be utilized as a large sized monitor for video or DVD. Not only playing back the animation file but also capable of marking on the part of monitor where you want to emphasize or additionally writing your comments.Existing VTR materials or educational animation can be used without waste and StarBoard is effective for increasing centripetal force.
Return to above
【Click here for other products line up】