4Colors Printer(Common to all models)
The contents which are written on the whiteboard with black, blue, red and green markers can be printed in 4 colors as they are. The monochrome copy is also available as before.
Function for Screen
(LF-33S,LF-31S,LFW-33S,LFW-31S,LF-53S,LF-51S,LFW-53S,LFW-51S)
One page of Projection Screen for projector is equipped among the whiteboard pages.It effectively supports the presentation with clear pictures by lowering reflection of a light source.
| | |
| --- | --- |
| 【Whiteboard Surface】 | 【Screen Surface】 |
| If projected on the whiteboard surface, it becomes very hard to see because of the reflection of a light source. | Screen surface effectively supports the presentation with clear pictures by lowering the reflection of a light source. |

Endless white sheet is used for Plantage. Thus you can write continuous something on all 4 pages or 2pages.




Built-in Screen: One page of white sheet is arranged for Projection Screen Use.


Wide Type
LFW-34,LFW-32,LFW-33S,LFW-31S,LFW-54,LFW-52,LFW-53S,LFW-51S)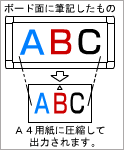 1,800mm width which is the same size as whiteboard in generally wide use.One page of written objects is printed into A4 size plain paper by reduced scale.


PlainPaper Available(Common to an models)
Quiet and fast Ink Jet Printer is adopted. A4 size plain paper is available.Compared with thermal paper, it can be well preserved without deterioration and you can write additional notes on the paper.
Designation of Number of Copies and Copy Density(Common to all models)
You can print maximum g copies at one time。 Copy Density can be set to either of 2 grades, Standard(Economy Mode) and Dense (High Quality Mode).


Quiet and Light Weight Design
Very quiet with: When white sheet running= 55db, When copying= 60db.With light weight design considering the movement of Plantage, you can move from a conference room to another smoothly. (Available for T shape stands with castors.)
Operation Panel
Copying, forwarding the whiteboard sheet and designation of number of copies can be easily operated with one button. Larger and easy-to-see indication gains popularity.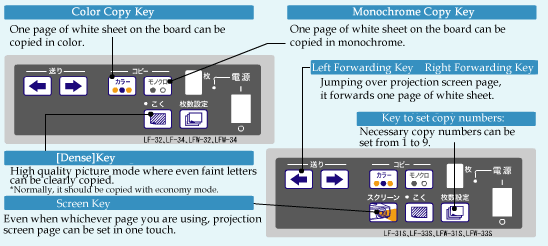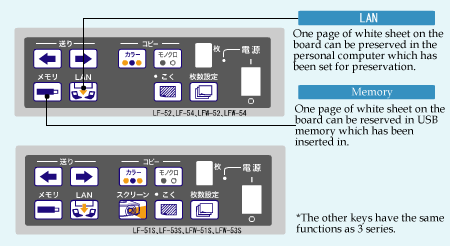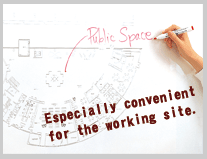 Carrier Sheet(Option)
Besides written objects on the sheet surface, drawings and tables can be copied as they are by holding them with carrier sheet.Tables or Drawings which are used frequently can be printed on the carrier sheet. Thus the conference will becomemore efficient.